Product LifeCycle Management
Odoo

PLM
integrates CAD Packages into Odoo, extending product revision,
B.o.M. and document capability.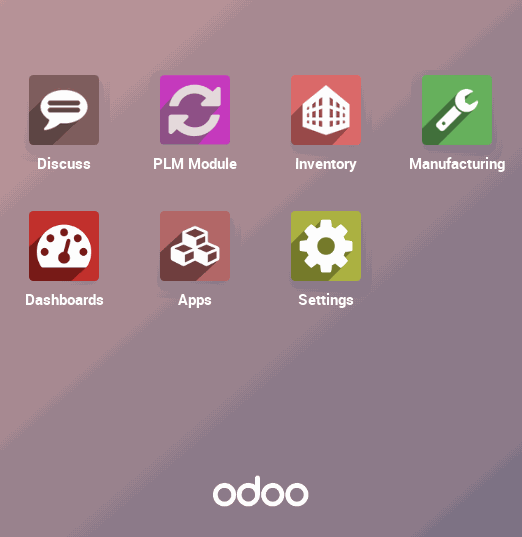 This application enables a group of people to intelligently and efficiently manage 3D Models and 2D Drawings, directly from CAD editors. It helps to share 2D documents using PDF embedded.
You can easily put your engineering models and drawings into Odoo. It helps to work on Concurrent Engineering managing access policies on documents. Moreover, it adds many reports and views on Bill of Materials and its related reports.
CAD Integrations

Fully Integrated on main commercial CAD/CAE Packages with a menu of commands. Allows to assign Product informations to 3D Models / 2D Drawings, reads the BoM directly from graphic hierarchy structure.

SolidWorks

ThinkDesign

Solid Edge

AutoCad

Inventor
Full CAD search view
Allows you to search product inside the CAD application, giving you a powerfull searching tool.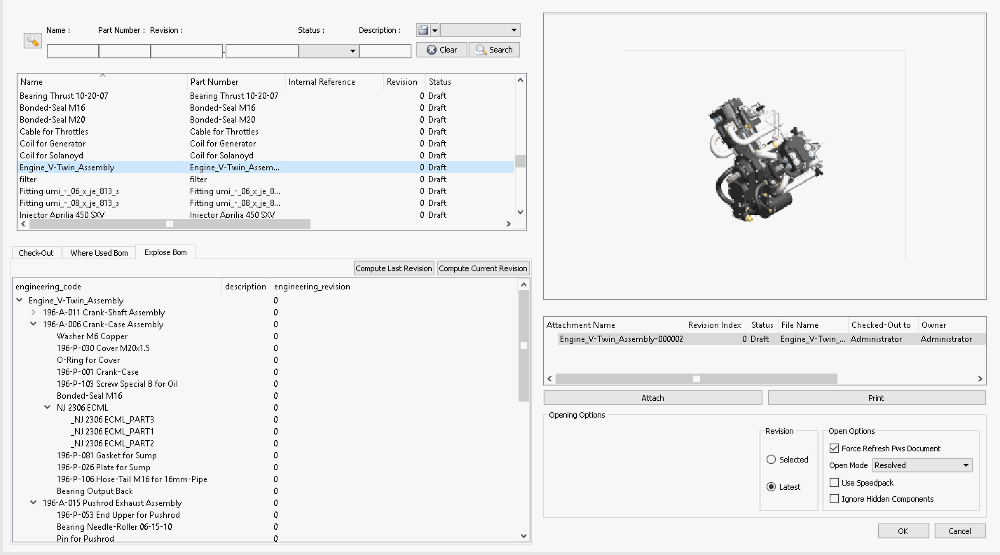 Search on product
Search on Exploded BoM
Search on Imploded BoM


Search Check-out Document
Open different versions of the same product
Froze assembly into a separate folder
Immediate preview


Product Linked Documents


Product LifeCycle Management
Manages fundamental revisions of Products and Documents. Integrates CAD Packages into Odoo extending product revision and B.o.M. capability. Allows to manage LifeCycle of Products and Documents, integrating it with standard Workflow tools. Helps to describe history of changes maintaining BoM through revisions.
Old Revision



ECR-ECO




New Revision


Odoo Improvments
Product Kanban View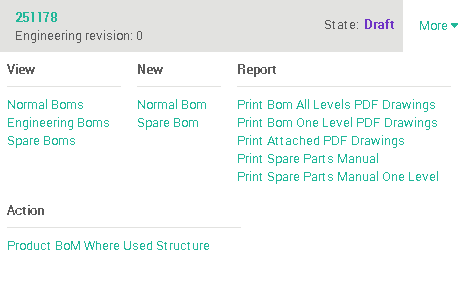 Kanban View with Document Icons
Fast build in actions for printing

Fast build in actions for exploring BoMs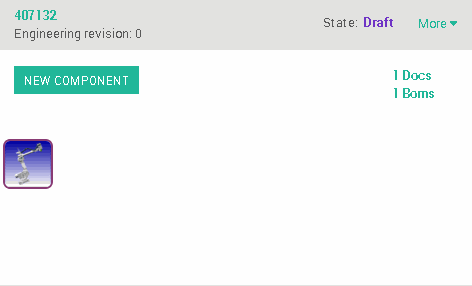 Document View with tumbnails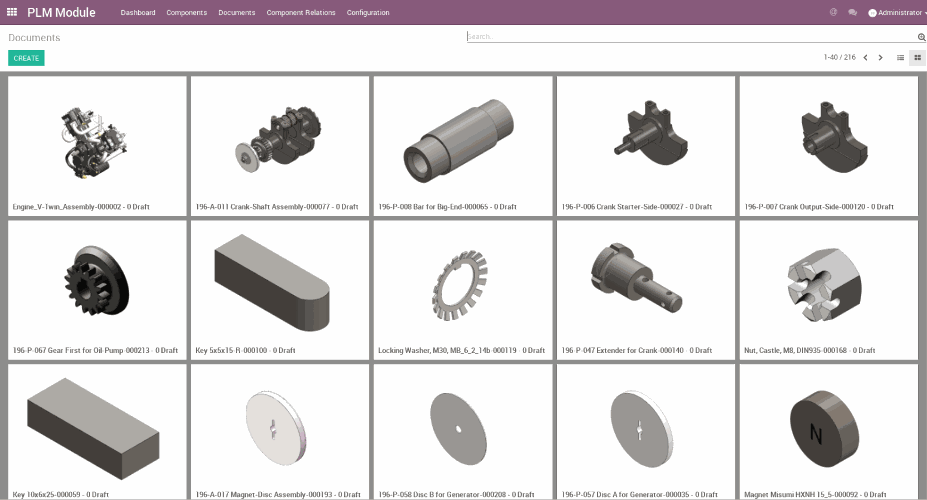 BoM Enhancements

Implements several special BoM reports. BoMs can be printed with different styles: One Level, All Levels, Only Leaves. Comparing BoMs helps to understand differences between them.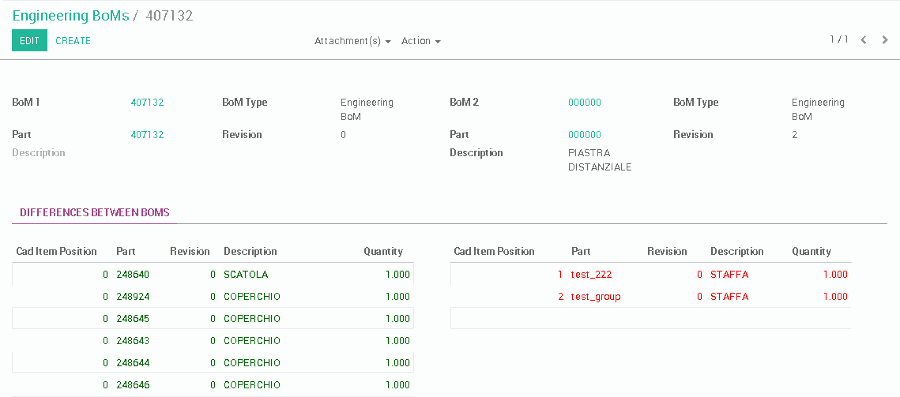 Do you want to get more tecnhical information about Odoo PLM ?
Easily click HERE or contact us
Do you want to try Odoo PLM? Try
Do you want to be one of the
people who experienced Odoo PLM ? Download the client
---
Client Activation
once and forever
Remove Boring bunner for 1 user
Number of Users: 1
Professional 5
Starting package
Release of standard blocked features for 5 users
Bux Fixing : High Priority
Number of Users: up to 5
Annual OdooPLM Maintenance 5

Bugfixing service guarantee

4 hours of professional OnLine support*
Installation Client and Server**
1 Day Analysis and Customization
Remote Technical Analysis for the PLM implementation

Customization of the BOM Report

Set up of Custom Procedures
1 Day Remote Standard Training

OnLine Training and assistance for the usage of OdooPLM (with tokens of 2 hours each)
*with tokens of 30 minutes each
**in case of a brand new Odoo installation
Professional 10
Starting package
Release of standard blocked features for 10 users
Bux Fixing : Upper Priority
Number of Users: up to 10
Annual OdooPLM Maintenance 10
Bugfixing service guarantee
8 hours of professional OnLine support*

Installation Client and Server**

1 Day Analysis and Customization

Remote Technical Analysis for the PLM implementation

Customization of the BOM Report

Set up of Custom Procedures

2 Days Remote Standard Training
OnLine Training and assistance for the usage of Odoo (with tokens of 2 hours each)
1 Day Remote Training on the job
OnLine Training and assistance for the usage of Odoo: applied on the customer's job
(with tokens of 2 hours each)
*with tokens of 30 minutes each
**in case of a brand new Odoo installation